Get Involved
Become a Volunteer
Millions of people in the world have vision problems that can easily be corrected with eyeglasses. Yet, many of the poorest segments of the world's population in Asia, Latin America, and Africa cannot afford the cost of a simple pair of eyeglasses.
You can help them by volunteering for EYEsee. Your in-kind donations of time and talents can help thousands of people to experience corrected vision with recycled eyeglasses, helping them regain productivity and employability and enjoy a quality of life.
We have many volunteer opportunities to help with our continuing work in alleviating the world's poverty or support this year's two campaigns (used eyeglasses collections and fundraising). Becoming an EYEsee volunteer can be both a transforming and memorable experience for you, while expanding your communication, leadership, and problem-solving skills.
How to Become an EYEsee Volunteer
1) Attend one of our regularly scheduled Volunteer Orientation sessions. Choose from any of the available dates shown on the Events page of our web under Volunteer Orientation.
2) Select from a list of volunteer opportunities shown on the Events page of our web. The descriptions shown under each of the listed opportunities should help you decide which activities interest you. Then simply show up on the date and place of the event, and we'll take care of the rest.
Become a Mentor
Help EYEsee to reach out to the poorest of the world's populations by volunteering your time and experience. Join a team of highly skilled professionals who are helping EYEsee succeed.
As an EYEsee mentor, you not only share your business skills and knowledge, but you also provide the EYEsee team with the guidance, encouragement, and support it needs to live up to its full potential.
We have many mentoring opportunities at EYEsee to help with our continuing work in alleviating the world's poverty or support this year's two campaigns (used eyeglasses collections and fundraising). Because you make a tangible contribution to a non-profit organization, you help create a positive change in the lives of others.
You donate as many or as little hours to help with EYEsee's projects. Most work is done virtually. Projects are structured with specific goals and deadlines. On an as-needed basis, you will participate in conference calls with EYEsee teams.
How to Become an EYEsee Mentor
1) Select a mentoring role from the list above that best matches your skills and experience.
2) Send an email to glasses@eyeseemission.org about your background and your area of mentoring interest.
Adopt Our Cause as a Scout Project
Consider collecting used eyeglasses as your service project and designate EYEsee as your partner organization.
Shop For Sight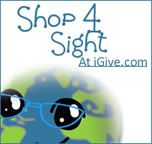 If you could give up to 26% or more of your everyday purchases to EYEsee at no extra cost to you... would you?
That's what will happen when you join www.iGive.com/eyesee and shop at over 600 stores in the Mall at iGive.com.
EYEsee is helping EyeCare WeCare Foundation, Inc. purchase a mini-bus for transporting volunteers and indigents to all of their medical missions through funds EYEsee's supporters are raising when they shop online through iGive.com. iGive.com is a virtual charity shopping mall that enables individuals to shop online at over 600 of the country's leading retailers and simultaneously support any cause they wish, such as EYEsee.
I know that like us, you believe in making the world a better place. So does iGive.com. That's why when you buy everyday items like books, CDs, clothing, office supplies, even toothpaste from one of their popular online stores like eBay, Eddie Bauer, Lands' End, Drugstore.com, Barnes&Noble.com, and PETsMART, they will make sure that EYEsee receives up to 26% of each purchase at no extra cost to you! And that's just the beginning.
Membership is FREE and shopping through iGive.com is safe and secure.
At iGive.com there are never any secrets. You can look up the amount you and other iGive.com supporters of EYEsee have raised, any time you wish -- you can even view the checks online.
Remember, donating to EYEsee won't cost you a thing, so visit www.iGive.com/eyesee now.
Click HERE to join!